In silico molecular cytogenetics: a bioinformatic approach to prioritization of candidate genes and copy number variations for basic and clinical genome research
Molecular Cytogenetics
2014
7:98
Received: 27 November 2014
Accepted: 2 December 2014
Published: 9 December 2014
Abstract
Background
The availability of multiple in silico tools for prioritizing genetic variants widens the possibilities for converting genomic data into biological knowledge. However, in molecular cytogenetics, bioinformatic analyses are generally limited to result visualization or database mining for finding similar cytogenetic data. Obviously, the potential of bioinformatics might go beyond these applications. On the other hand, the requirements for performing successful in silico analyses (i.e. deep knowledge of computer science, statistics etc.) can hinder the implementation of bioinformatics in clinical and basic molecular cytogenetic research. Here, we propose a bioinformatic approach to prioritization of genomic variations that is able to solve these problems.
Results
Selecting gene expression as an initial criterion, we have proposed a bioinformatic approach combining filtering and ranking prioritization strategies, which includes analyzing metabolome and interactome data on proteins encoded by candidate genes. To finalize the prioritization of genetic variants, genomic, epigenomic, interactomic and metabolomic data fusion has been made. Structural abnormalities and aneuploidy revealed by array CGH and FISH have been evaluated to test the approach through determining genotype-phenotype correlations, which have been found similar to those of previous studies. Additionally, we have been able to prioritize copy number variations (CNV) (i.e. differentiate between benign CNV and CNV with phenotypic outcome). Finally, the approach has been applied to prioritize genetic variants in cases of somatic mosaicism (including tissue-specific mosaicism).
Conclusions
In order to provide for an in silico evaluation of molecular cytogenetic data, we have proposed a bioinformatic approach to prioritization of candidate genes and CNV. While having the disadvantage of possible unavailability of gene expression data or lack of expression variability between genes of interest, the approach provides several advantages. These are (i) the versatility due to independence from specific databases/tools or software, (ii) relative algorithm simplicity (possibility to avoid sophisticated computational/statistical methodology) and (iii) applicability to molecular cytogenetic data because of the chromosome-centric nature. In conclusion, the approach is able to become useful for increasing the yield of molecular cytogenetic techniques.
Keywords
BioinformaticsCandidate genesChromosome imbalancesCopy number variationGene expressionMolecular cytogeneticsSomatic mosacism
Background
To produce biological knowledge on the basis of high-throughput analyses of genome, in silico methods are required. Technical resource limitations in acquiring and validating data on mechanisms and consequences of genetic variants suggest the robust selection to underlie the associations with phenotypic traits. Consequently, candidate gene prioritization seems to represent a valuable approach to validate genomic associations in silico and, more importantly, to exacerbate the significance of molecular findings [1],[2]. Actually, functional characteristics of genes seem to be the most useful parameters for establishing genetic associations [3]-[6]. However, there is a strong evidence from molecular cytogenetic studies that copy numbers of genes involved in a variety of critical biological processes can be variable without apparent phenotypic effect [7],[8]. Therefore, one can propose bioinformatic classification of genetic variants to be important for distinguishing between benign and pathogenic mutations.
Recently, several bioinformatic assays applicable to molecular cytogenetics have been described and have served as a basis to develop more sophisticated techniques to detect chromosomal rearrangements and to generalize genomic data [9]-[13]. Notwithstanding, bioinformatic methods are rarely used in molecular cytogenetic studies. Our own efforts in this regard have been made to define the consequences of genomic variations according to in silico surveying gene expression [14]-[16]. Despite this relative success, requirements of additional selection criteria and more detailed in silico analysis of genome (epigenome and proteome) data have been acknowledged. Here, incorporating several new features (selection criteria) and integration/fusion of data from multiple databases/resources, we propose a bioinformatic approach to prioritization of candidate genes and copy number variations (CNV). We further speculate that this approach can be useful for basic and applied molecular cytogenetic genome research.
Conclusions
Bioinformatics can help in avoiding extensive laboratory efforts, but requires deep knowledge in computer science, statistics and related disciplines. Nevertheless, the existence of user-friendly online tools and software is able to simplify the use of bioinformatics. Here, a bioinformatic approach to prioritization of candidate genes and CNV based on analysis of genomic/epigenetic/proteomic and metabolomic databases/online tools has been proposed. According to our evaluations, it seems that the approach possesses simplicity inasmuch as it does not require sophisticated computational or statistical methodology. Another advantage of the present bioinformatic approach is the versatility or, more precisely, the independence from the use of specific software and databases (online tools).
Combining molecular cytogenetic resolution in whole-genome scanning and single-cell chromosomal analysis [
50
]-[
52
] with the power of bioinformatic analyses of transcriptomic and proteomic data [
53
]-[
55
], the approach is able to shed light on interplay between SGV and non-mosaic chromosomal/genomic rearrangements. Further, filtering and ranking genomic, epigenomic (gene expression), interactomic (protein networks) and metabolomics ("reactome"/pathways) data followed by the fusion forms the basis for prioritizing candidate disease processes. These are certainly useful for making genotype-phenotype correlations, elucidating disease mechanisms, and developing personalized molecular therapy. Taken together, these theoretical perspectives provide the foundation of
in silico
molecular cytogenetics, basic principles (outline) of which are schematically illustrated in Figure
4
. It is to note that this scheme is a kind of flow chart of our bioinformatic approach, as well. To this end, one can still conclude that further steps to make
in silico
molecular cytogenetics more practical are certainly required.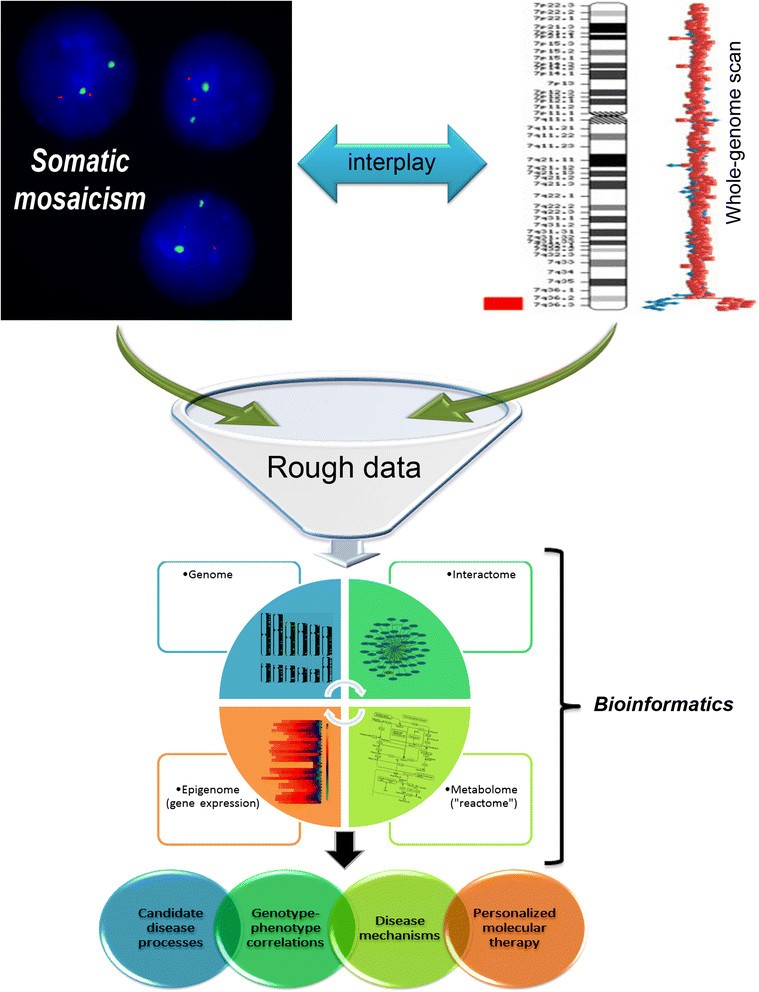 Methods
Molecular cytogenetic techniques (sample preparation, FISH and array CGH)
We have analyzed the results of array CGH of 205 patients. Additionally, data on interphase FISH analysis of about 5000000 cells from 150 samples (metaphase and interphase analyses) were bioinformatically evaluated. Array CGH was performed as described previously [16],[56]. FISH analyses of metaphase chromosomes were presented earlier [44],[57]. Sample preparation for interphase FISH was made according to a previously described protocol [58]. Results of interphase and metaphase FISH with chromosome numeration, site-specific and multicolor banding DNA probes were described in our previous communications [14],[37],[42],[44],[45],[48],[52],[57].
Bioinformatics
Genomic, epigenomic, proteomic and metabolomic data was analyzed as described previously [1]-[6],[12],[14]-[16],[59]. The data on each gene involved in chromosome abnormalities and/or CNV were acquired from clinical, genomic (browsers and gene ontology databases), epigenetic (gene expression), proteomic, interactomic (databases + software) and metabolomic databases. Firstly, genes were selected according to the gene expression patterns. Proteomic and metabolomic data were used to confirm the selection. More precisely, epigenetic (expression) and metabolic "tissue-specificity" was used as a criterion for the selection (for more details see [17] and [59]). Interactomic data was visualized and processed using Cytoscape software [60]. Metabolomic data was acquired from multiple sources (i.e. gene ontology databases and the Reactome pathway knowledgebase [61]).
The prioritization was made by ontology-based gene filtering (i.e. selection of genes according to their direct relevance to the phenotype or to their involvement in molecular/cellular processes relevant to a trait). Afterwards, ontology-based gene-specific ranking of gene properties was used. To finalize the prioritization, simulating pathway alterations (i.e. analyzing proteomic networks without elements referred to mutated/deleted/duplicates genes) was made and then, the selection of candidate processes for pathology in each given case was done. The prioritization of one or more genes in a CNV encompassing several genes was considered as an essential criterion for the prioritization. Information from clinical and molecular databases was arbitrarily re-evaluated by a bibliographic analysis assessing the level of publications (citations, comments etc.) about features of interest in light of the phenotypic outcome.
Databases and software
Databases and software used in the present study are outlined in Table
1
.
Table 1
Databases, tools, resources and software used in the present study
Database-tool-resource-software

URL

Acquired data or application

UCSC Genome Browser (Version: Feb. 2009 GRCh37/hg19)

Mapping of molecular cytogenetic data

Ensembl Genome Browser

NCBI Build 37.1/NCBI Map Viewer

http://www.ncbi.nlm.nih.gov/projects/mapview/map_search.cgi?taxid=9606

Database of Genomic Variants

Data on natural genome variations

OMIM (online Mendelian inheritance in Man)

Clinical data

DECIPHER (Database of Chromosomal Imbalance and Phenotype in Humans using Ensembl Resources)

Phenotype-Genotype Integrator (PheGenI)

AutDB (web-based searchable database for autism research)

BioGPS

Gene expression data

Cytoscape software (Version: 3.1.1)

Interactome analysis

Reactome

Pathway analysis

Pathway commons

KEGG (Kyoto Encyclopedia of Genes and Genomes)

NCBI BioSystems Database

NCBI gene

Various gene information

PubMed

Bibliographic searches and evaluations

Google scholar
Abbreviations
CGH:

Comparative genomic hybridization
CIN:

Chromosome instability
CNV:

Copy number variations
FISH:

Fluorescence in situ hybridization
GIN:

Genome instability
SGV:

Somatic genome variations
URL:

Uniform Resource Locator
Declarations
Acknowledgements
We thank Alexandra P. Silvanovich, Oxana S. Kurinnaia and Maria A. Zelenova for technical assistance. The study was supported by Russian Scientific Fund (project #14-15-00411).
Authors' Affiliations
(1)
Mental Health Research Center, Russian Academy of Medical Sciences, Moscow, Russia
(2)
Russian National Research Medical University named after N.I. Pirogov, Separated Structural Unit "Clinical Research Institute of Pediatrics", Ministry of Health of Russian Federation, Russia
(3)
Department of Medical Genetics, Russian Medical Academy of Postgraduate Education, Russia
Copyright
© Iourov et al.; licensee BioMed Central Ltd. 2014
This article is published under license to BioMed Central Ltd. This is an Open Access article distributed under the terms of the Creative Commons Attribution License (http://creativecommons.org/licenses/by/4.0), which permits unrestricted use, distribution, and reproduction in any medium, provided the original work is properly credited. The Creative Commons Public Domain Dedication waiver (http://creativecommons.org/publicdomain/zero/1.0/) applies to the data made available in this article, unless otherwise stated.