MLPA for confirmation of array CGH results and determination of inheritance
Molecular Cytogenetics
2010
3:19
Received: 25 August 2010
Accepted: 13 October 2010
Published: 13 October 2010
Abstract
Background
Array CGH has recently been introduced into our laboratory in place of karyotype analysis for patients with suspected genomic imbalance. Results require confirmation to check sample identity, and analysis of parental samples to determine inheritance and thus assess the clinical significance of the abnormality. Here we describe an MLPA-based strategy for the follow-up of abnormal aCGH results.
Results
In the first 17 months of our MLPA-based aCGH follow-up service, 317 different custom MLPA probes for novel aCGH-detected abnormalities were developed for inheritance studies in 164 families. In addition, 110 samples were tested for confirmation of aCGH-detected abnormalities in common syndromic or subtelomeric regions using commercial MLPA kits. Overall, a total of 1215 samples have been tested by MLPA. A total of 72 de novo abnormalities were confirmed.
Conclusions
Confirmation of aCGH-detected abnormalities and inheritance of these abnormalities are essential for accurate diagnosis and interpretation of aCGH results. The development of a new service utilising custom made MLPA probes and commercial MLPA kits for follow-up studies of array CGH results has been found to be efficient and flexible in our laboratory.
Keywords
Copy Number ChangeInheritance StudyCustom ProbeaCGH ResultaCGH Finding
Background
Array Comparative Genomic Hybridisation (aCGH) using either Bacterial Artificial Chromosome (BAC) or oligonucleotide platforms is currently the method of choice for genome-wide screening for chromosome imbalance [1–6]. This technique is now widely used in cytogenetic laboratories as a follow-up test for patients with phenotype suggestive of chromosome imbalance, but with normal karyotypes. An international consensus statement has recently recommended array CGH as a first-line test in place of traditional karyotype analysis [7]; implementation of this recommendation requires that any aCGH diagnostic service should be robust, cost-effective and medium-throughput.
An essential component of such a service is a strategy for confirming abnormal findings, and for establishing the carrier status of the parents. Various strategies for confirmation of abnormal aCGH findings have been described, including repeat aCGH testing [8], Fluorescence In Situ Hybridization (FISH), microsatellite analysis [9, 10], real-time PCR [11, 12] and Multiplex Ligation-dependent Probe Amplification (MLPA) for specific genes [8]. Some centres confirm abnormal findings only for small imbalances, due to the confidence associated with abnormal "calls" on multiple adjacent probes (personal communication), whereas others confirm all abnormal findings [1, 2]
Inheritance information is essential for accurate interpretation of aCGH findings, and the above strategies can also be applied for testing parental DNA [12–14].
In our laboratory, we have recently introduced oligonucleotide aCGH in place of karyotype analysis [15]. In this paper we describe an MLPA-based approach for inheritance studies, and for confirmation of aCGH abnormalities within common syndromic regions (e.g. chromosome 22q11 microdeletion region) and subtelomeric regions. Our strategy utilises both custom-designed MLPA probes and commercially available MLPA kits used in our existing diagnostic service for products of conception [16] This approach results in considerable time and efficiency savings for our aCGH service.
Results
In the period from January 2009 to May 2010, 3306 array CGH tests were carried out in our laboratory. The following sections refer to MLPA results obtained within this time period
Confirmation of array CGH results and inheritance studies using custom MLPA probes
When parental blood samples were received for follow-up studies of aCGH findings not covered by probes in MRC-Holland P36, P69 or P245 kits, a custom MLPA probe specific for a locus within the abnormal region was designed. Potentially relevant genes were targeted and common copy number variants (CNV) were avoided.
During this period, 317 unique custom MLPA probes were designed for 164 families in order to determine inheritance of both duplication and deletion results, and were tested on a total of 1105 individuals. Figure
2
depicts the spread of custom probes across the genome.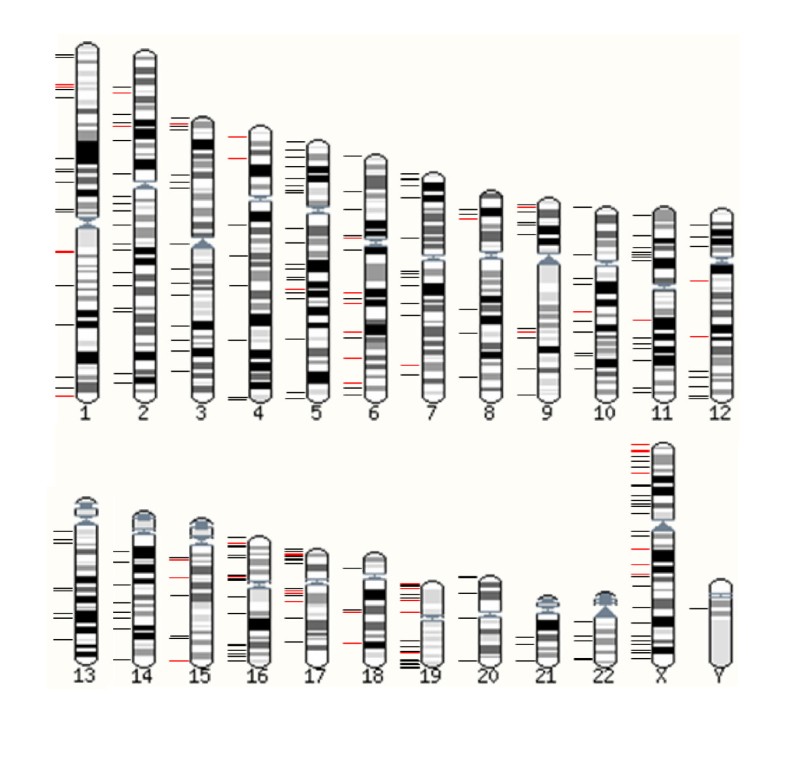 The majority of custom probes were used for only single families; however, certain regions have started to emerge as exhibiting recurrent deletions and/or duplications. This may be due to previously unidentified recurrent syndromic regions, or may represent benign population polymorphisms. To date, the probe with the greatest usage is located at Xp22.31. This has been used for 11 families. Duplication of this region has been found in patients with a range of different phenotypes, and also in normal parents, both male and female, and has therefore been suggested as a benign variant [22]. The reciprocal deletion gives rise to steroid sulphatase deficiency in male carriers (OMIM 306480).
In addition, a custom probe has been designed for the autism susceptibility locus on chromosome 16p11.2 [23–25]. Copy number changes within this region are frequently detected by aCGH and are very likely to arise following unequal meiotic crossing over between flanking low-copy repeats. Custom MLPA can therefore be used to confirm the abnormality, thus eliminating the need for repeat aCGH testing in such cases. Within our data set, this custom MLPA probe has been used to confirm copy number changes and for inheritance studies in five families.
Twenty seven custom MLPA probes (8.5%) failed, due to either amplification failure or inconsistent results. In all cases, replacement probes were designed.
Confirmation of subtelomeric abnormalities and common microdeletion/microduplications detected by aCGH
During this period, 49 samples from 28 families were tested using subtelomere kits (P36E and P69) for follow-up of aCGH results. Three de novo terminal abnormalities were confirmed out of a total of nine where inheritance studies have been completed; a chromosome 9p deletion, a proximal chromosome 13q deletion (confirmed using the P36E kit which contains a probe for the proximal region of the long arm of chromosome 13) and an unbalanced translocation between the telomeric regions of the short arms of chromosomes 5 and 8.
In the same period, 61 samples from 32 families were tested using microdeletion/microduplication kits (P245) for follow-up of aCGH results. Eleven de novo results were confirmed out of a total of twelve where inheritance studies had been completed; six deletions of the chromosome 22q11 microdeletion/microduplication region, three abnormalities in the Prader Willi/Angelman syndrome region, one duplication of the Smith-Magenis region, one partial deletion of the Miller-Dieker region, one deletion of the NF1 region, one deletion of the Alagille region and one duplication of the Williams Beuren region. One case of an inherited chromosome 22q11 duplication was also confirmed.
Discrepant results
We observed no discrepancies between array CGH results and MLPA results. Apparent discrepancies may arise due to SNPs close to the ligation site of the two probe hybridising sequences, causing amplification failure, and therefore mimicking a deleted result. This is mitigated by using the H-MAPD software which checks potential probe sequences against the latest SNP database.
Results turnaround times
Confirmation and inheritance results were generally available within two weeks of sample receipt. Probes were usually synthesized and dispatched by IDT within five working days of ordering. Tests using existing stocks of probes could be turned around in less than a week in urgent cases. The rate of repeat testing due poor DNA quality or discordant probe results was 14%.
Discussion
Array CGH testing for genomic imbalance has been introduced as a first-line test in place of G-banded chromosome analysis in a number of centres, and is offered as an additional test by most cytogenetics laboratories. As with any test protocol that involves the simultaneous handling of multiple DNA samples, it is important that any abnormal results are confirmed in order to establish patient identity before reporting. However, repeat array CGH testing of all abnormal findings, and array testing of parental samples for inheritance studies adds significantly to the cost of the service and may also result in incidental findings potentially requiring further investigation.
MLPA is now an established technique for the investigation of copy number [26]. MRC-Holland http://www.mrc-holland.com manufactures numerous commercial MLPA kits for the detection of copy number changes in different genomic locations. We currently use three of these kits (P36E, P69 and P245) in our recently described diagnostic service for the molecular analysis of miscarriage products [16]. Prior to the introduction of aCGH into our laboratory we also used these kits for the diagnosis of subtelomeric imbalance (P36E and P69) and common microdeletion/microduplication syndromes (P245) in patients with idiopathic developmental delay and/or dysmorphism [17]. We therefore have in operation in our laboratory an efficient and medium throughput diagnostic MLPA-based service and have refined our sample preparation and data analysis techniques to improve accuracy and turnaround times. We were able to exploit this existing service in order to develop an efficient follow-up strategy for aCGH testing. However, the approach we describe should also be feasible in centres with an appropriate genetic analyser without previous experience of this technique, as extensive technical support is available from MRC-Holland, and DNA preparation, probe design, reaction set up and data analysis protocols are readily available. In our experience, optimisation is not required for the majority of custom MLPA probes. Furthermore, the use of custom MLPA probes represents a simple method for establishing copy number beyond the usage described in this paper.
This approach results in significant time and cost savings by avoiding the need for aCGH testing for confirmation of common abnormalities or of parental samples. Other follow-up approaches that have been described include FISH, which has the advantage of giving position information, and excluding balanced rearrangements in parents, in cases of apparent de novo findings [13]. However, this approach requires cell culture in order to examine chromosome spreads, whereas MLPA is performed on the same DNA sample as is used for the original aCGH analysis; in addition some regions of imbalance detected by aCGH are too small to be followed up by routinely-available FISH probes. Nevertheless, where FISH probes are available, we offer FISH testing to parents of children with de novo abnormalities, in order to refine their reproductive risk; no families have yet requested this testing. We have compared real-time PCR as a follow-up strategy and have found it to be more costly and time-consuming than MLPA (results not shown).
Follow-up of aCGH results using STR markers and QF-PCR is limited by a lack of polymorphic markers, time taken for optimization and the inability to confirm deletions in the absence of parental genotypes. However, we are able to confirm common trisomies using the multiplex QF-PCR kits designed for our prenatal service [20, 27].
Conclusions
Follow-up of abnormal aCGH results is good practice to confirm patient identity, and inheritance studies are necessary for accurate interpretation of these abnormal findings. The results presented here demonstrate that MLPA is a fast, robust and accurate technique for confirmation and follow-up of both duplication and deletion aCGH results. However, exclusion of balanced parental rearrangements by FISH is recommended for apparently de novo abnormalities.
Declarations
Acknowledgements
We thank members of the Cytogenetics Department for their input.
Authors' Affiliations
(1)
Cytogenetics Department, GSTS Pathology, London, UK
(2)
Cytogenetics Department, Guy's & St Thomas' NHS Foundation Trust, London, UK
Copyright
© Hills et al; licensee BioMed Central Ltd. 2010
This article is published under license to BioMed Central Ltd. This is an Open Access article distributed under the terms of the Creative Commons Attribution License (http://creativecommons.org/licenses/by/2.0), which permits unrestricted use, distribution, and reproduction in any medium, provided the original work is properly cited.